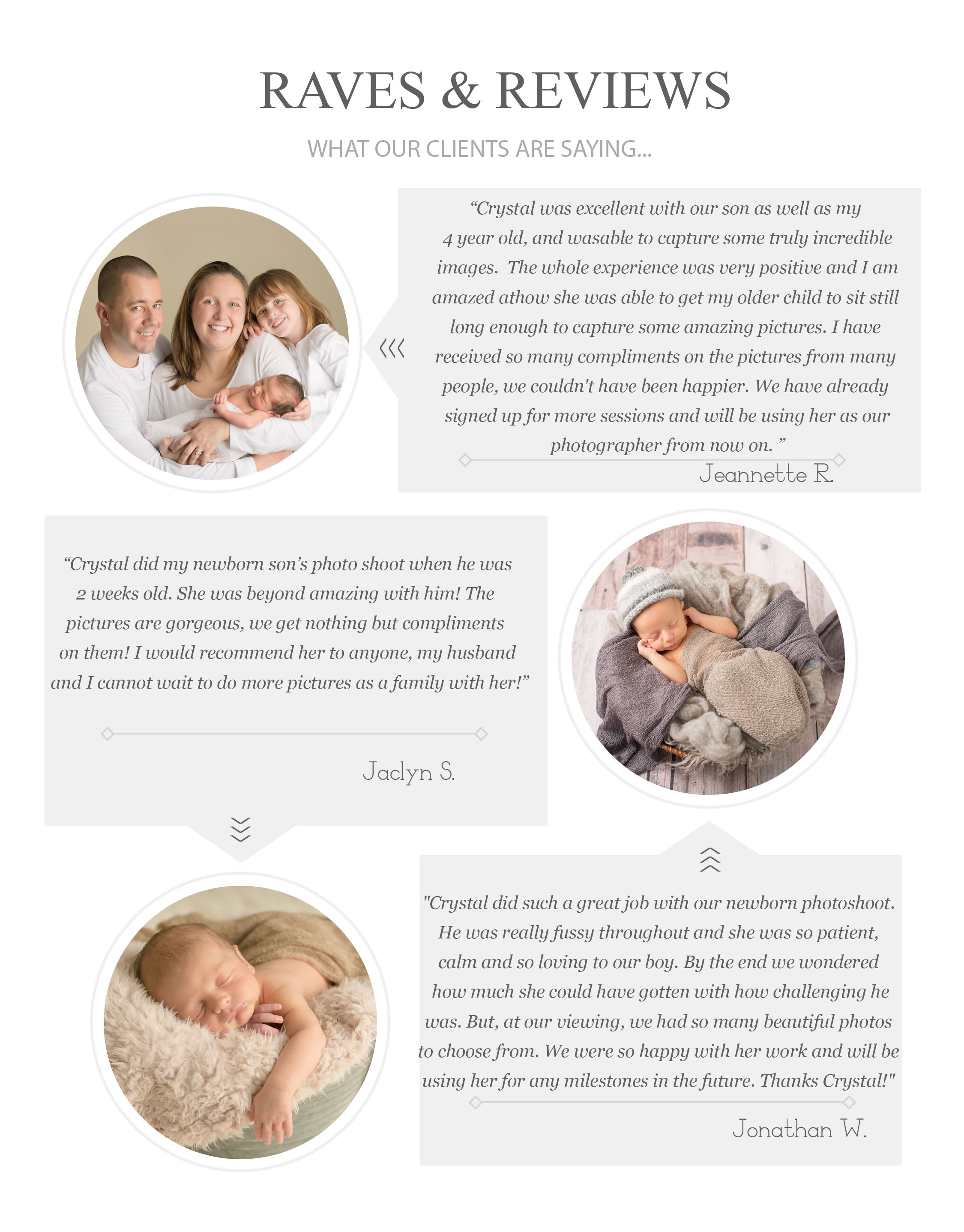 Additional Reviews:
"From our first meeting with Crystal to the engagement shoot and well past our wedding day, we were continuously blown away with her charm, dedication, love for the camera, professionalism and obviously beautiful photos. She never hesitated to respond to emails, questions, or concerns during the wedding planning process. We had an absolute blast at our engagement shoot which got us even more excited to work with her on our wedding day. When the "big" day arrived, I was so happy to see her. Her presence is so calming and natural, she fits right in with the guests. My husband didn't want a lot of photos so Crystal managed to get a ton of great shots in a short time. Before the wedding, we were a little concerned because we have large families with many different avenues and weren't sure if we would get all the photos. Crystal not only nailed it but got many great candid photos of close family- the photos you go home and say, "wow I'm so glad she got that picture!" I always hear brides complain they didn't get that picture dancing with their Grandpa or their husband hugging his Grandma, but not with Crystal. If you want a professional, easy going, focused, organized, passionate photographer with a modern yet classic twist who gets all the shots, then you want Crystal Turino! I could go on with compliments, thank you again Crystal for all your hard work, we look forward to working with you in the years to come as our family grows."-Courtney A.
"I just wanted to take the time out to write about my experience using Crystal Turino photography. I was a little apprehensive at first as I have never had experience hiring someone personally to do my family's photos. We've been to generic places for family pictures such as the local chain portrait studios in the past. I have to say first and foremost that it was the best experience we ever had taking family pictures! Crystal was so much more personal, professional, and patient then anyone we ever worked with before. She took the time to get to know our family and wanted to do her best in capturing each child's unique beauty. We have four children so it was a lot of work, but she exceeded our expectations. Our youngest daughter is also on the Autistic Spectrum and Crystal didn't shy away from working with her. And our daughter very much took a liking to her. Crystal's pictures she took were absolutely hands down the best pictures that we ever took of our family!"
-Heather T.
"My husband and I are so glad that we chose Crystal to work with. We love our wedding photos and get so many compliments from friends, family– even strangers! From the first time we contacted her, Crystal was always super quick to return emails, phone calls or texts. Throughout the time before our wedding she kept in contact with us to help prepare for the big day. She was always professional, and thankfully for us she was flexible when we had last minute changes. Her personality was very laid back and it was easy to feel comfortable around her. We got back our photos very soon after the wedding (we were actually still on our honeymoon when we received them!) Crystal's rates were very reasonable and her services were a great value. We got beautiful photos and will definitely recommend Crystal to people we know.
-Jill F.
"Crystal is an amazing photographer! We had the opportunity for her to shoot both engagement photos and our wedding. At the time, we weren't sure about taking engagement photos because we had been engaged 3 years previous, but I am so happy we did! It allowed is to get comfotable with her and being in front of the camera. The photos came out amazing; we even used them at the wedding and for my bridal shower invitations! Somehow in the short email conversations I had with Crystal, she knew us and our love for eachother. Her photos tell our story! We ♡ Crystal Turino Photography!!!"
-Lindsay D.
"Crystal Turino photographed our wedding this past September. She also did our engagement photos a year earlier. Crystal is professional, courteous, and a phenomenal photographer. She is comfortable, takes control in a polite way, and completes her job above and beyond what is expected of her. She captured some truly amazing moments from our wedding. She was on time, easy going, and even stayed longer than she had to. Crystal really listens to what you want, and produces it in the photos she takes. We couldn't be happier with our choice to use Crystal for our wedding day. I would highly recommend her to anyone looking for a truly wonderful photographer!"
–Jaclyn R.

"An amazing photographer. Crystal Turino is simply the best. She did an amazing job capturing pictures of my little girl. I could not ask for a more patient and attentive photographer. I look forward to having Crystal capture the moments at my wedding and all my future family photos. Crystal really has natural talent and my family's only photographer !!!!! Thank you Crystal for capturing the most amazing photos of my little girl."
-Hope S.

"Crystal Turino photographed our wedding on 9/6/13. She is an amazing photographer. She is very creative, and captures everyone so genuine and beautiful. Everyone loved her, she's so relaxed and easy going, like you've known her for years. Our only problem was that we had too many amazing photos to choose from to put in our wedding album!"
Connie C.
"If I had to grade Crystal's performance I would gladly give her an A without question. She took the time to do an engagement shoot with my husband and two little boys to go along with our "day of" photography. She's kind, and patient. Which with two young boys can be very tough. The day of my wedding she showed up with a smile of her face and a laugh to tag along with it. The whole day she was right where the action was doing what she does best. She spent the day laughing with us and making jokes, which made myself, the rest of the wedding party and our families feel comfortable. Her attention to detail on the specific things I asked for was spot on. Every pose, and every shot we spoke about was taken care of, and very well I might add. Our over all experience with Crystal from the engagement shoot, to receiving the photos just two weeks after the wedding was great. For being such an important and special time in our lives we were so glad we had someone so talented and caring to capture the moments for us. Five out of five stars from us. We'd recommend Crystal to anyone."
-Christina A.